This is a Yangshuo guide article. It has a variety of good, quality information including hotels, restaurants, attractions, arrival and departure info.
Discussion,pls e-mail us: 81381862@qq.com
Yangshuo (阳朔) is a city in Guangxi, China.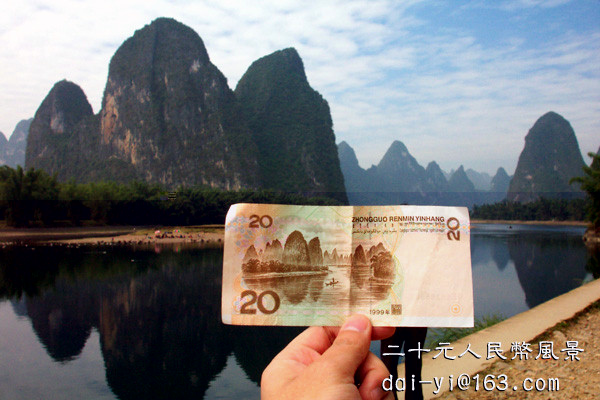 Shouldered by the Li River, surrounded by limestone pinnacles, rice paddy fields and tiny villages nestled in the countryside, Yangshuo is a popular place to spend a few days biking the meandering paths, hiking through caves, rock climbing, fishing, bamboo rafting, kayaking and chilling in the cafes.
·Get to
◎By plane
There is no airport in Yangshuo. After you arrive at the Guilin Airport, you can choose to take a Airport Bus to Guilin ,the bus fare is CNY 25.00 (paid on the bus) ,then ride another bus to Yangshuo.
You also can choose to rent a taxi to Yangshuo ,from airport to Yangshuo just 50 mins (By high way) .Kellen's private tours can provide airport pick-up service if needed (RMB280, 4 person van,email classictour@139.com is fine. ).
◎By train
YangShuo is not served by train and the nearest railway station is Guilin. Minibuses to YangShuo conveniently depart from the square in front of Guilin railway station. For bus connections, see below.
◎By bus
•
From Guilin to Yangshuo
: There are frequent minibuses and Express buses that travel to Yangshuo from Guilin. All buses terminate the route at the Yangshuo Bus Terminal. The bus fare for the minibuses is CNY 18.00 (paid on the bus). These minibuses depart from the square in front of the Guilin (South) Railway Station. The journey could take up to 1½ hours because the minibuses will stop frequently along the way to pick up and let off passengers (beware of pick-pockets). The Express buses depart every half hour from the Guilin Bus Terminal off Zhongshan Zhong Road. Express bus tickets (CNY 20.00) can be purchased at the ticket counters inside the Guilin Bus Terminal and the journey usually lasts up to an hour and 10 minutes.
•
From Elsewhere
: Overnight sleeper buses run direct to Yangshuo from Shenzhen (near the Hong Kong border), from Zhuhai (near the Macao border), and from Guangzhou. The bus fares for these buses range from CNY 100-250 depending on which city the bus departs from and the quality of the bus. The bus fares from Shenzhen are the most expensive.
◎By boat
The tour boats that go down the Li River to Yangshuo are slower and more expensive (CNY 275). However, the journey will be a very scenic one (approx. 5 hours).
·Around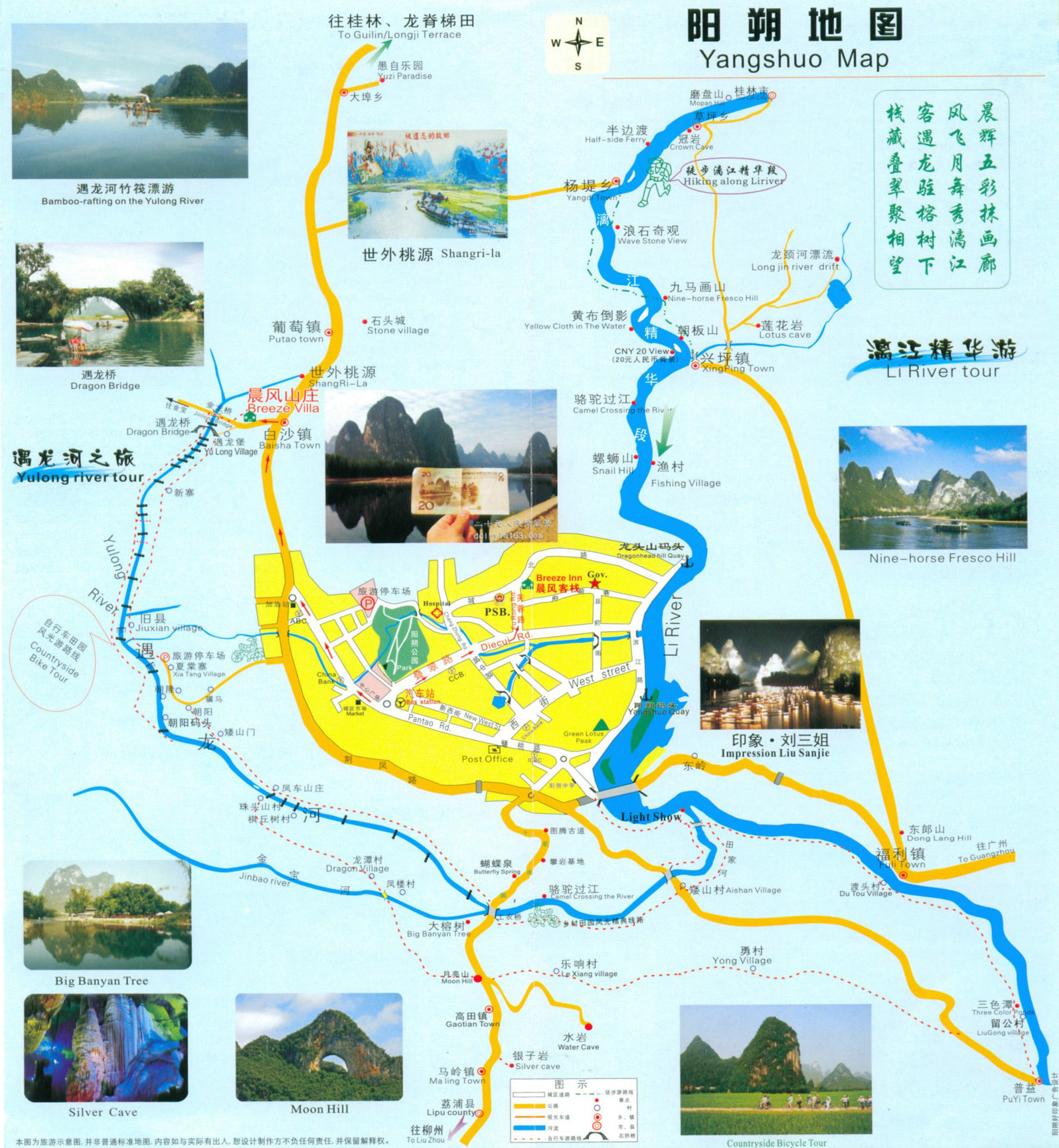 ◇Around town
Yangshuo is a small place - the town can easily be covered on foot. There is an electric minibus network consisting 5 routes covering most parts of town. RMB 1 per ride.
The main tourist area is laid out roughly like a ladder. The two main tourist streets run more-or-less parallel up from the river to end at one of the town's larger streets. There are assorted smaller streets (rungs) crossing between the two larger streets. The street (ladder vertical) on the left seen from the River is West Street (西街 Xijie) and is the older more established tourist street, the real center of things. The other long tourist street is Diecuilu (畳翠路).
There's a small creek that runs down the center of the "ladder"; some of the prettiest bars and restaurants in town are on balconies near it. At the "foot of the ladder" by the river is an open area with a large number of vendors hawking all sorts of tourist stuff, both from shops and from handcarts. Also a number of rather nice riverside hotels.
Across the "top of the ladder" is a major street (Pantao Lu) with many hotels. The town's main bus station is at the corner where that main street meets Die Cui Lu. The intersection has a large open area that becomes very busy at night, with dozens of restaurants and hundreds of diners. Do not expect English menus or non-Chinese dishes.
Near the top of West Street are two banks with ATMs — Bank of China, Agricultural Bank — and there is a China Construction Bank on Die Cui Lu. Service in the Bank of China can be awful, but it has the only ATM that accepts foreign cards.
Bank of China
This is the only bank that can change cash or travellers cheques.
There are two branches in Yangshuo
◎Branch 1. Located on West Street near the entrance to New West Street. This branch also has an ATM outside which takes most overseas cards.
Opening hours: 09:00-17:00 ,7 days a week.
◎Branch 2. Located on Pantao Road near the Yangshuo Park. This branch is not as busy as the first branch. This branch also has an ATM outside which takes most overseas cards.
Opening hours: 09:00-17:00 , 7 days a week.
The post office is on Pantao Lu, opposite the top end of West Street.
Here you can get stamps for post cards (4.2 Yuan) and letters. You can also post back some of the souvenirs you have purchased in Yangshuo or China. The trick is not to pack the items yourself, because the staff at the post office need to inspect the items to make sure there are no antiques or dangerous goods being posted. The staff in this post office are very accustomed to posting items overseas and are very efficient.
Opening hours: 08:00-21:00
Hospital
The main hospital in Yangshuo is The People's Hospital of Yangshuo County. It is located on Chengzhong Road about a 5 minute walk from West Street. Some of the staff speak some English so you are better to come here with a local friend.
◇Into the countryside
If you're planning on walking around the many streets and caves around Yangshuo, a map is recommended. Artistic tourist maps are available for sale for around RMB5 at tourist shops all over town, but the free maps are better for finding your way.
For those who want to wander a little further afield , or to check the attractions in the area, there are several options.
◎The most popular is bike rental - there are several places around the main street catering for short-term rentals charging from RMB 5 upwards.
◎There are boat tours up or down the river.
◎Local buses serve some locations. From Yangshuo's bus station, minibuses (xiao mian bao or "little bread loaves") go to Gaotian (for Yueliang Shan/Moon Hill), Jinbao via Baisha (for Yulong Qiao/Dragon Bridge), Shazhi (for Fuli village), Xingping (for the Xingping-Yangdi scenic area) and further afield.
◎It is possible to hire private cars for others.
You can mix these modes of travel, for example taking a boat out of town and biking back or taking a bus upriver a ways to catch a boat tour.
Some hostel can arrange transport and a guide if you want one. Alternately, you can choose your own tourist guide. One guide is Jerry +86 18807738008 ,a pleasant boy with reasonable English. A guide may be very helpful for things like cycling tours.
·Landscape
The area around Yangshuo is renowned throughout China, and probably the world, for its Karst landscape where there are thousands of limestone hills dotting the countryside. The beautiful scenery here is usually the subject of Chinese paintings as well as the inspiration for poetry. There are several popular areas for Karst landscape sight-seeing which can be covered by river cruises, bamboo-raft cruises, cycling, trekking and combinations of the various modes.
Yangdi-Xingping scenic area
:
This stretch along the Li River is probably the most renowned and popular. There are river cruises available and in fact, the Guilin-Yangshuo boat ride passes through this area. There is also a 24km (5 to 6 hours) track for easy hiking along the Li river. The walk is a far more peaceful way to enjoy the Li river and mountain scenery than the loud noisy boat down the river. It takes you along the pebbly shores of the river, through many small villages, fields and bamboo forests. If you get tired, you can always rent a bamboo raft to float down the river. Getting there: There are various ways of reaching this stretch of the Li River. You can of course catch a direct river cruise from Yangshuo town. You can also get to Xingping by minibus (called xiao mian bao or "little bread loaves") from Yangshuo bus terminal, or cycle out there and then take boats or bamboo rafts to reach the scenic area. Again, combinations of the various modes are possible.
Yulong River valley
:
The pretty Yulong River valley is said to rival the Yangdi-Xingping stretch in terms of beauty. Besides rafting down the river on bamboo rafts, another popular way of seeing the valley is by cycling along riverside tracks. The journey will bring you through many farming villages and past several stone bridges across the river such as the Yulong Qiao and Fuli Qiao. Getting there: From Yangshuo town, you can access the Yulong River valley by turning west into a small road from the main Yangshuo bypass road just south of the Sinopec petrol station at the junction of Pantao Lu (there are road signs in Chinese). You can also access it by using the road to Jinbao from Baisha town 9km north of Yangshuo on the main road to Guilin. Minibuses from Yangshuo bus terminal to Jinbao go near Yulong village.
Shangri-la
Shangri-La is a legendary story, a place where peach flower bloom all the year and a paradise for the people of China. The story is just a story.
It is an area with mountains, caves, bridges, rivers, houses, and people who practise delightful local customs, a place that will give you everlasting memories. The happinesss and the bitter mess of life can all be found at Shangri-La. It is a place full of Mother's love. Shangri-La also seems to be a beautiful charming girl who has grown up and came back to the home that she left when she was vey young.
See the legend come alive at Shangri-La.
Moonlight Hill
:
Another popular scenic spot south of town. The main attraction is a hill with a huge hole in the shape of a moon. The hills here can be climbed for spectacular vistas from the top. Getting there: Take a Gaotian minibus Yangshuo bus terminal. If you plan to cycle, Moon Hill is located about 8km south of Yangshuo on the road to Wuzhou.
Shows
Impression Liu Sanjie runs nightly during the high season. Set to the music from the movie of the same name (which in turn was based on an old Chinese story), it features a cast of 500 wearing traditional Zhuang, Miao and Yao dress, and a highly impressive light show. By far the best view is from the official seating area. Tickets are available from most travel agents or hotels in town for around 188 RMB. Expensive by Yangshuo standards, but well worth it. You can see it more cheaply from a boat on the river, or even from across the river, but the view is not as good.
·Do
There are so many things to Yangshuo here:
◎
Bike riding
: The countryside around Yangshuo is ideal for bike rides. It is possible to leave town in many directions along roads or, better still, along one of the numerous dirt tracks that connect the local villages. Most of the routes are flat enough - with only very small hills. Those who take mountain bikes with a range of gears will hardly even notice the hills that are there.
You can easily hire all types of bikes. There are mountain bikes, tandem bikes, kids bikes and ladies bikes. There are many people offering these bikes for hire all over Yangshuo.
When you do hire a bike, check that the bike is in good condition. Check that the brakes work, that you can change gears and that the pedals and seat are firmly fixed. If there is a problem it is often better to hire one from someone else.
Adjust the seat to suit you. This should mean the top of the saddle being about level with the top of your hip bone when you stand beside the bicycle. The best test is that your leg should very nearly straighten when the pedal is at its lowest point. Too many people, especially those who are less confident, put the saddle too low - and then suffer from pains in and around the knees.
Prices start from about 20 Yuan for a bike for the whole day. Better bikes cost from 30 - 50 Yuan for the day.
You can choose to go off on your own or take a local guide. There are advantages to each and, if you have time, it is a good idea to try both. Take a guide for your first trip and get orientated - then go back out and see what you can find for yourself. There are no great maps, but it is impossible to get totally lost. You are bounded by rivers and roads and these will always lead you back to Yangshuo - as will the friendly locals.
◎
Rock climbing:
Yangshuo has over 250 climbing routes ranging in difficulty from 5.6 to 5.13. There is a lively climbing scene in town, so experienced climbers will have no problem finding a partner, just ask in the climbing places and they should know other climbing travellers you can hook up with. For beginners and climbers travelling without their own equipment several climbing companies (Xclimber, Karst Cafe/Climber, etc.) offer equipment rental and one/muli-day trips. A guidebook showing route topos, grades, etc. can be purchased from any of the climbing companies.
◎
Exploring caves
, of which there are an abundance in the limestone hills
o guided tours for the general tourist
o serious spelunkers should talk to the climbing shops about possible cave climbs
◎
Swimming
:During the summer the water and air temperature are good for swimming. The Lijiang water quality is generally good but tour boats coming from Guilin are a hazard. The Yulong River is good for swimming although parts are crowded with bamboo rafts.
◎
Bamboo rafting
: Rafting along the Yulong river is particularly popular in summer, but travellers should take care not to go rafting if the water is brown and turbulent.
◎
Hot air ballooning
:Pricey by Chinese standards, hot air balooning in Yangshuo is still a bargain compared to the west.
◎
Volunteering:
The Volunteer English Teachers program visits local schools to teach poor children English.
◎
Cormorant fishing
The cormorant fishing show is on every evening. The fisherman will be on a bamboo raft with his birds. These birds will dive into the water and look for fish and try to catch them. If successful, they return to the raft where the fisherman grabs the bird and puts the beak over a basket where the fish falls into.
   During the show, you will be in a boat following the fisherman.
·Shopping
There is a huge amount of touristy stuff on offer:
◎Pashmina scarves, Cashmere by a different name.
◎silk products: ties, kimonos, scarves, dresses...
◎pottery, bronze, stone carvings, bracelets, knickknacks of all sorts.
◎scroll paintings, fans and embroidered cloths.
Much of this stuff is lovely, really very tempting. However, nearly all of it is available all over China and cheaper outside of YangShuo. Asking prices for such stuff in YangShuo are horribly inflated.
Getting the prices in the right hand column took hard bargaining, based on knowledge of prices elsewhere. Of course, even those may not be the best possible prices.
Local goods
There are also a few things not usually available elsewhere:
◎Postcards and picture books of the area, in stores or hawked by older women on the street.
◎Chinese paintings of the local Karst scenery.
◎T-shirts with Chinese characters with different slogans, such as "I have no money" or "Foreigner coming, Foreigner going".
◎Silver and embroidery pieces by local minorities.
① Prices for large pieces are high, but some pieces may be worth them.
② Small pieces, such as embroided Zhuang minority love balls, are also available
You should also bargain on these, of course.
CDs and DVDs
are available at three stores on West Street and one on "New West Street" near the bus station. Nearly all such products in China are unauthorised copies, but these look real. General quality, especially the packaging, is far better than the usual. Many come with booklets of lyrics or artist biography. Some have full-colour advertising printouts for the label's other offerings; I cannot imagine a "pirate" duplicating that. Selection is also good; the English music is not all Backstreet Boys and the Carpenters. Prices are also higher, 15-25 RMB versus 6 or 8 for the cheap copies all over China. The store nearest the top of West Street has better prices, but the others are only slightly more and have music it doesn't.
Lots of western and Chinese DVDs are available, for 8 RMB per disc. Mainly movies, but also some box sets of popular series, at the shop on New West Street. These are of course "pirate" copies, available all over China.
·Sleeping(small hotels, like a small villa)
NOTE: please take your passport with you (not the copy),if not,you are not allowed to check in.
①
Breeze Inn
(Beds from CNY 50)
Situated in a quiet street just 4 minutes' walk from West Street, the heart of Yangshuo, the Breeze Inn is your best choice for your stay in this beautiful town. Our Inn, which has great mountain views, is also quite close to the romantic Li River and the bus station of Yangshuo. All rooms have independent air conditioning and hot water bathroom.
②
F Hotel
(Beds from CNY 180)
Address:No.16 Yulong village,Baisha town ,Yangshuo , China 541901.
Email: unclefeng@139.com
Close to the YulongRiver,F Hotel is 9 km of north Yangshuo west street, and nestles itself in a 600-year-old village called "Yulong", which literally means "meet with dragon".
. The comfortable rooms with en-suite bathroom and walk-out terrace with your own private view of the waterfall gardens , the Romantic Garden Cafe in our private garden with real mountain waterfall, and lots or opportunities for entertainment.
③
Smiling Hotel
(Beds from CNY 140)
Top1 hotel in North of YulongRiver,nice rooms,with great mountain river views. From our beautiful terrace you can appreciate the views of YulongRiver valley, fabulous karstmountains, and a superb sunset.
·Eat
Yangshuo is a great place to eat in China. There are dishes from all over the world and just about any region in China. You can eat cheaply in the markets with the locals or you can try comfort food in one of the many cafes in town.
◎Yangshuo produces very sweet and juicy grapefruit.
Pomelo - A cross between a grapefruit and an orange, this large fruit has a very thick skin. You may even need the help of a local to peel it. The fruit inside can taste a touch sweet or a touch sour. It does not usually have a large quantity of juice but it is refreshing. Pomelos are in season during autumn and winter and can remain fresh for many months, so you can normally get them during spring and summer. Persimmon - A fruit that when it is ripe looks a little bit like a tomato. It can be eaten when ripe but the locals prefer to dry this fruit and eat it later. Can taste very sweet. They ripen around summer. Water Chestnuts - Usually planted in early summer, they are ready to harvest at the end of Autumn and early winter. Once washed and peeled, it has a snow-white flesh with a crunchy juicy texture and pleasant sweet taste. In the winter months they are used in many dishes as they compliment meats and vegetables.
◎Beer fish is a local specialty, something most Chinese tourists try.
◎The night market near the bus station has quite a variety of food, much of it at low prices (although still more expensive than elsewhere in China). You can even get mussels and oysters here!
Vegetarian
There are a very large number of vegetables grown here. Cabbage, bak choy, celery, spring onions, carrots, and many more. Check out the market days when you are here to see what is being grown.
Chilly spices. This area is renowned for its chilly sauce. Just a little bit of the sauce is enough to add a lot of spice into any dish
Western food
It seems almost every restaurant in Yangshuo offers burgers, shepherd's pie and a Western breakfast. Many of the staff in these places have reasonable English, a few excellent.
Several of these offer free Internet access, but generally only have one machine so you may have to wait a bit.
·Drink
Considering its size, Yangshuo has a pretty boisterous nightlife. Most restaurants along the main street stay open late and serve alcohol. Several have live music.
Cafe le Votre, set back from the street with a courtyard in front, is a brew pub with its own beer. They have two brews, a wheat beer and a dark beer; both are rare finds in China. They also have French and Chinese food. Their courtyard is a great place for people-watching, but unfortunately it is also convenient for touts to find you.
There are also several clubs located near the bus terminal, which sometimes stay open until 5 or 6 A.M. and other nights are shut by midnight. There doesn't seem to be a method to their hours, save going down and seeing if they're open. There should be no cover, and frequently there's an opportunity to see young PLA soliders from the nearby base in a decidely un-military context.
As with Guilin, the local drink is Uncle Feng's Osmanthus wine(know as GuihuaJiu,Y100 for a 500ml bottle), produced from rice-wine and flavored with sweet osmanthus flowers. It is distilled, but typically has an alcohol content less than 35%.The wine with colors varying from pale yellow to yellow, is traditionally consumed during the Mid-Autumn Festival, a sweet tasting and with a strong fragrance that can be smelled from a distance.E-mail:unclefeng@139.com
·Learn
Cooking school
Learn to make several typical local dishes at the YangShuo Cooking School. Classes involve a trip to a local market to buy ingredients, individual woks as you go step-by-step through preparation of the various dishes, and a meal at the end. Classes must be booked a day in advance.
Kungfu
Tai Chi
Some of us see Tai Chi as an early morning form of exercise which can be done with hand movements or with other props such as fans and swords
Tai Chi can also be an introduction to martial arts as some of the movements are slow versions of defensive or aggressive positions
Generally, Tai Chi is great for coordinating all of your body organs and muscles into a unified machine. With Tai Chi, you can control your breathing, pulse and muscles. Combined with a healthy diet, you can be assured to feel much better and live healthier
In Yangshuo, there are several people who offer Tai Chi classes. They can offer single classes, however, if you really want to experience the benefits, then you should take classes for a much longer period of time
Calligraphy
Chinese
Whether you just want to spend a couple of weeks relaxing around Yangshuo or you want to spend months making your own way around China, a crash course in survival Chinese could be just the ticket.
·Get out
Because YangShuo is so dependent on backpacking tourists, you'll find a range of services and agencies not commonly found in China. There are ample places that sell plane tickets to all other provincal capitals and some international destinations. There are also bus and sleeper bus services available towards Hong Kong, Shenzhen, Guangzhou, and Kunming. Train tickets -- which will depart from Guilin -- are also available. There are tickets available all the way to Hanoi in Vietnam. These aren't easily available elsewhere, and can save quite a bit of hassle at the China/Vietnam border. Vietnamese visas, however, take several days to obtain in YangShuo and are necessary, so be careful before you buy.
From Yangshuo to Guilin:
In Yangshuo, the minibuses can be caught at the exit of the Yangshuo Bus Terminal on Die Cui Road. The minibus that will be departing at any given time will be the one at the head of the bus queue. The Express buses depart every half hour from their designated bay in the Yangshuo Bus Terminal. Express Bus Tickets can be purchased at the main ticket counter.
To Nanning
Express buses to Nanning from Yangshuo leave daily at 8:30 AM and 11:30 AM (just two buses). The buses will go to Guilin first for a short stopover to pick up passengers. The journey could take up to 6 hours ,and the bus fare is RMB120. In Nanning, the 8 AM bus stops at the Langdong Bus Terminal, while the 9 AM bus stops at the Jiangnan Bus Terminal.
Langdong Bus Terminal 3 PM have one bus come to Yangshuo,and the bus fare is RMB120.
To Hanoi Vietnam
In Nanning , Langdong Bus Station have Express buses to 东兴 Dongxing Bus Terminal ,leave daily at 08:40 09:00 09:20 09:40 10:00 10:20 10:40 11:00 AM (just 8 buses). The journey could take up to 3 hours . The bus fare is RMB51.
In Nanning , Langdong Bus Station have Express buses to Hanoi ,leave daily at 08:00 \09:00 \11:00 AM (just 3 buses) ,The journey could take up to 7 hours ,the bus fare is RMB135.
Nearby
Huangyao Ancient Town.
Huangyao Ancient Town is just over an hour outside of Yangshuo by coach. It is a lovely, rustic old town where the film, "The Painted Veil" was shot.