【
Paradise at your doorstep
】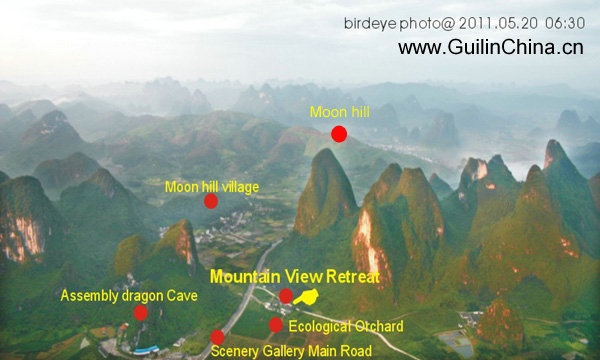 The Yangshuo Mountain View Retreat is a set of country houses combined Chinese and Western style in the beautiful countryside and amazing Karst peaks(Moon Hill,The famous hill has a big holl that looks like the moon.), with accommodation, resturant, ecological agriculture, travel services all in one and only 5 km outside Yangshuo. Authentic Chinese village life as it has been for centuries.
If you're looking to escape from city life, the Yangshuo Mountain View Retreat is the perfect getaway. Perched near the Moon Hill park and surrounded by towering limestone peaks, you'll experience views that have inspired poets for millennia. Relax at the Retreat, and enjoy the magnificent Yangshuo countryside from our beautiful eco-lodge. All around the Retreat you will find the beauty of nature and local culture in harmony. We built the Mountain View Retreat with much consideration of Fengshui and local tradition in our design.
You could spend your time here exploring the countryside and all the sites it offers, and you can do it at your own pace. Go for a bike ride, a hike, rent a motorbike and even hire a car for the day. Once you are here, just relax and enjoy the scenery.
We can help you to organize activities like cycling, hiking, rock climbing, bamboo-rafting, cooking school, kungfu, Taichi lessons, and lots of other excursions , both active and cultural.
Our staff can arrange tickets to the Sound and Light Show-Liu Sanjie, as well as train tickets, plane tickets and give you more information on such things as massages, sending post cards, making international call, internet, and much more.
【
Photos
】
The Moon Hill Valley where Our Yangshuo Mountain View Retreat is located
【
Get to
】
·
From Airport(72KM)

After you arrive at the Guilin Airport, you can choose to take a Airport Bus to Guilin ,the bus fare is CNY 25.00 (paid on the bus) ,then ride another bus to Yangshuo.
You also can choose to rent a taxi to Yangshuo ,from airport to our hotel just 70 mins (By high way) .We can provide airport pick-up service if needed,an additional charge will be required.
·
From Guilin(55KM)

There are frequent buses that travel to Yangshuo from the square in front of the Guilin (South) Railway Station. All buses terminate the route at the Yangshuo Bus Terminal and via Baisha town. The bus tickets is CNY 14.00 ,paid on the bus,every 15 mins have one. The journey could take 1 hour from Guilin to Baisha.
·
From Yangshuo(5KM)

6AM--6PM,there have minibus from
Yangshuo--Gaotian
via our hotel,the bus tickets is CNY 3.00 ,paid on the bus.
Or you can rent a taxi instead of bicycle to enjoy pretty rural view.


Remarks:
Beds from CNY380
【
Actives
】
Dining
In Our Retreat, we have a small restaurant, where you can enjoy the wonderful local cuisine. Our ingredients are from the local farmers. We guarantee "just fresh food" Breakfast is serving from 7.30 to 10.30 am, a full meal to start your day. It costs 30 rmb per person, you can choose between western or Chinese meal. For lunch and dinner, you will enjoy our daily menu, home style Chinese food. It costs 35 rmb per person. Try the famous "Beer fish" and enjoy the fresh air.
【
Contact us
】
Address:Moon Hill Big Banyan Tree Scenery Zone,Yangshuo , China 541907
Tel: +86-773-8776369 Fax: +86-773-8776288
E-mail:mountainviewretreat@yahoo.cn